electric motorized beds are helpful for back pain
and other back related issues. When you are not keeping well, or when you need to sleep for long hours its necessary to give some movement to your back.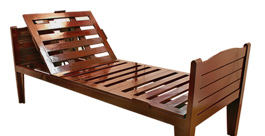 Especially patient of slip disc, a general bed or rocking chair is not enough to give comfort and proper support to your back.
Just imagine a person who needs a complete bed rest sleeping for days on a single bed. In fact many a times patient starts complaining of back ache even when he doesn't have any problem with his back. This is because our body needs regular movement of backbone or we start feeling uneasy sleeping or sitting in a single position. Hence D4 Surgicals has now launched a electric bed which offers various degree of back rest position.

The most amazing part of this product is that the patient himself can change his sleeping position anytime without the help of any attendant. The backrest position of our bed helps you to upper or lower your back while you sleeping or sitting and that too without the help of some one.
You all might be aware that doctors always insist on sleeping in a right position and on a right surface as either of them can cause or aggravate your back pain. Hence our homecare back rest beds come with a feature were in you can select the position you wish to sleep in a keep on changing the same as per your wish with just a touch of a button and a Memory foam mattress which is simply the best surface to sleep on. The remote control attached to the bed helps you to raise the back or lower it as per your wish and this can be done even by a patient himself / herself even when he / she is advised for rest and is not allowed to take any strain or exertion.
Thus one can say that the
Backrest Motorised beds
can be recommended to any one and every one but especially to elderly people, people who needs to take rest for long or are suffering from back ache, slip disk problems, or any back related issues.


Advantage of Backrest Bed
Ideal for people discharged from hospitals after a treatment.
Suitable to patients undergoing or patients who has suffered from back related issues.
Helpful during Slip disk and other back ache problems.
Even an elderly attendant / patient can change the bed position.
Completely remote controlled.
Recommended by doctors around the world.
Comes with a 15 day money back guarantee.
Various Types of Beds