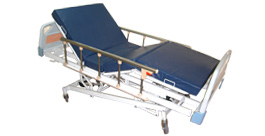 In the
Trendelenburg position
the body is laid flat on the back (supine position) with the feet higher than the head, in contrast to the
reverse Trendelenburg position
, where the body is tilted in the opposite direction which is the in simple words,
Trendelenburg position
the doctor can lower the head part of the body or the leg part as per the requirement of the treatment.
Trendelenburg adjustable beds
are recommended for advanced use in Intensive care unit [ICU] of the hospitals. Doctors too suggest and use this position while treating a patient.

The Trendelenburg position beds are available two options i.e., in Metal and ABS body. While both of them are built with special care and intelligent design, care is also taken to have a better aesthetics. The tilting position of the bed on the either side can be adjusted by simply a touch of the remote. The inbuilt motor which is remote controlled helps one to increase or decrease the angle of the bed on one side and get the vice versa on the other side of the bed.
This
electrical bed
offers the doctors the perfect position, which is a must which examining or treating a patient all by simply using an easy to operate remote control. Thus one can say that the
Trendelenburg position
offered by our electric motorized beds can be of great help to doctors in the hospitals.


Advantage of Bed
Specially designed for advanced use in ICU [Intensive care unit]
Suitable to hospitals who under take complicated treatments.
Helps doctors to be at ease.
Easy to operate and maintain.
Completely remote controlled.
Comes with a 15 day money back guarantee.
Different Types of Beds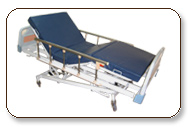 Hospital Electric Ajustable Beds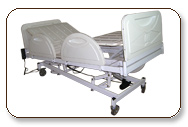 ABS Motorized Beds

Refer this site and help someone